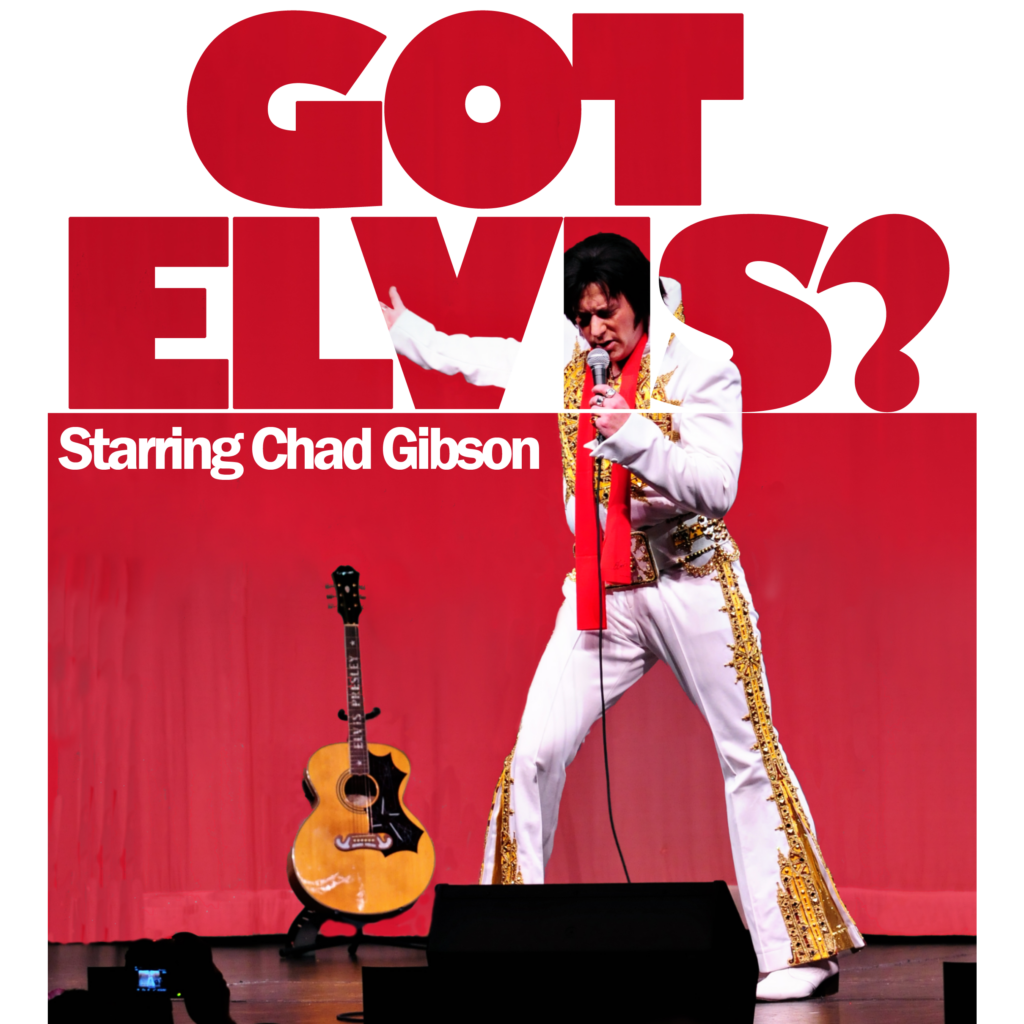 Chad Gibson returns for two nights with his wildly entertaining  tribute to Elvis.  You will not be disappointed by Chad's all encompassing likeness to the King himself! Both shows will include Elvis's beloved but rarely performed live, Gospel music.  Get your tickets early as Got Elvis always sells out!
Chad Gibson has been an Elvis Tribute Artist for more than 15 years and has been featured at the Hard Rock Cafe and Casino in Biloxi, Mississippi, Magic Casino, the Weather Channel and the University of Georgia. Born in Ft. Oglethorpe, Georgia, Chad grew up in Tennessee singing in church, acting and loving the music of  Elvis  Presley.  Chad has performed worldwide (35 countries and 41 states) as a  vocalist for the United States Air Force in Tops in Blue. He has appeared in several regional commercials and has been a guest on Fox News, CNN, NPR, BBC, ABC radio, CBS and was featured in national articles in the Air Force Times and the Reserve and National Guard Magazine.  A former on-air meteorologist for CBS, he has a Bachelor's degree in Meteorology from Florida State University, a Master's degree in  Communications from the University of South  Alabama and a Master's of Arts degree from Air  University. A 27-year veteran of the  military, Chad flew with the Hurricane Hunters as a Flight  Meteorologist in Hurricanes Ivan, Katrina and Rita to name a few.  
Friday, March 22nd at 7:30p

Saturday, March 23rd at 7:00p

Tickets: $22 regular and $20 discount
Discount applies to seniors 62 +, children, students, military with ID and groups of 10 or more.
Tickets will be delivered via email or text where you can print at home or show your tickets on your phone when you arrive.  Tickets may also be picked up at Will Call one hour prior to show start (When checking out choose Will Call). 
 To read more about what we are doing to keep you safe click HERE.
Still have questions? Email us HERE!